Proven medication

Effective ingredients proven to stop hair loss, prescribed by doctors.

Custom treatments

Unique dosages and personalised ingredients to suit your specific needs.

100% online

From a doctor's consult to having your treatment delivered – it's all done online.
How to get your treatment with &BAM
Chat with the doctor

At the end of the assessment, choose a time to chat with a doctor. You'll discuss suitability, and the best treatment to help you maximise results.

Get your treatment delivered

If prescribed, your treatment will be compounded and shipped to your door, mahala.
Custom treatments, effective for 9/10 guys
Our treatment plans are fully customisable, so you can choose between single ingredients or proven combinations in a foam or capsule format. It's the most effective hair loss ingredients, in a way that works for you.
Topical Foam Treatment

For years the only options to treat hair loss were pills or messy drops, now there's another option. This all in one quick-drying foam prevents hair loss and helps regrow your hair with clinically proven ingredients.

Easy, once-daily application 
Quick drying  
Results in 3 to 6 months* 



From R390/month 

Pause or cancel anytime 
*individual results may vary

Oral Treatment

Simple and effective, this once-a-day pill is clinically proven to increase regrowth and reduce hair loss with up to 5 clinically selected ingredients in a personalised capsule.

3-6 months to see results*
Oral tablet taken daily or a prescribed number of times per week
Easy to follow


From R299/month 

Pause or cancel anytime 
*individual results may vary
Personalisation matters
Our partner doctors take an individual approach when designing each patient's treatment plan. Here's why:
No two patients are the same

All you need to do is fill out our online assessment. The doctor will work with your information to get to the root cause of your hair loss and match you with the treatment that is most effective and suitable for you.

Active ingredients in unique dosages

Your hair loss stage and family history will determine the strength of your treatment for the best possible results, while minimising your chance of side effects. This is called your lowest effective dose.

Custom compounded treatment

Your treatment plan is fully customisable, meaning better results with less side effects. Our compounding labs formulate each hair loss treatment in an easy-to-use topical or oral treatment.
How we treat hair loss
When we lose our hair

DHT (a male hormone) shrinks the hair follicles causing hair to thin and fall out. Called hair miniaturisation, this results in balding.

Block DHT

By blocking the enzyme that produces DHT, we prevent hair loss and promote hair growth.

Stimulate growth

Treatments stimulate blood flow which bring oxygen and nutrient-rich blood to the hair follicle, promoting longer, thicker hair growth.
What to expect
In 3 months

Active ingredients get to work straight away
There's a temporary increase in shedding as fine hairs fall out to make room for new growth
Some men start to notice less hair fall and early signs of thicker growth

In 6 months

A decrease in hair shedding
Balding patches become less noticeable
Hair grows noticeably thicker and stronger

In 9+ months

Hair continues to grow longer and stronger
Thinning areas fill in, hairline is more defined
Continue with treatment to maintain results
*Individual results may vary. Always consult a doctor to determine if a treatment plan is suitable for you.
FAQs
What type of hair loss do you treat? 

We treat the most common type of male hair loss. It's called Male Pattern Balding (medically referred to as Androgenic Alopecia). This type of hair loss is genetic, but it's preventable and treatable, so if you've started to notice more hair loss than usual, start your online assessment. 
Can I use &BAM if I'm already bald?

 The best way to treat male pattern hair loss is to treat it early, proactively, and consistently. If you have been bald for a few years, it may not be possible to get great results. A doctor will let you know if your chances of seeing results are slim. 
Is there a cure for hair loss? 

No, there isn't currently a cure for hair loss – so watch out for any company claiming they can sell you a "cure." There are however effective and well-studied treatments available that can slow hair loss or even help you regrow your hair – you'll just need to chat with a doctor to learn more.  
How long after starting treatment can you expect to see results? 

Typically, within 3 to 6 months of treatment you can expect to see results. Everyone is different so some individuals see results sooner and for others it may take up to a year to start seeing meaningful results.  
Does wearing a cap or hat cause hair loss? 

No, there is no evidence to suggest that the wearing of caps or hats causes hair loss. In fact, extra sun protection for the scalp is recommended in those with thinning hair, as there is less of a barrier against the sun's rays. 
For how long do I need to use the hair loss treatment? 

Due to the nature of the medication used to treat hair loss, you must continue to use the treatment for as long as you want to maintain the effect. If you stop treatment, it your hair will regress to where you were before starting treatment, and hair loss will worsen.  
How often do I use the treatment? 

Generally, the treatment is taken or applied once a day. However, your doctor may increase or decrease the frequency of treatment. 
It is normal to see an increase in shedding in the first few weeks of treatment? 

Yes. The hair loss treatment will shorten the resting phase of your hair cycle and cause the hairs to enter their growing phase earlier. This may result in the detachment of some of the old hairs as they are replaced by newer replacement hairs. So, if you do notice an increase in shedding, don't panic. Keep applying the treatment, the shedding should subside, and you will start to get newer and better hair growth. 
Are there side effects? 

As with all prescription medication, there is the potential for side effects to occur. The doctor will discuss all the side effects with you during your online consultation. Although side effects are concerning, they only affect a very small percentage of men when treating male pattern baldness. Emerging research also suggests that the chances of side effects are significantly lower when treatment is used topically instead of orally.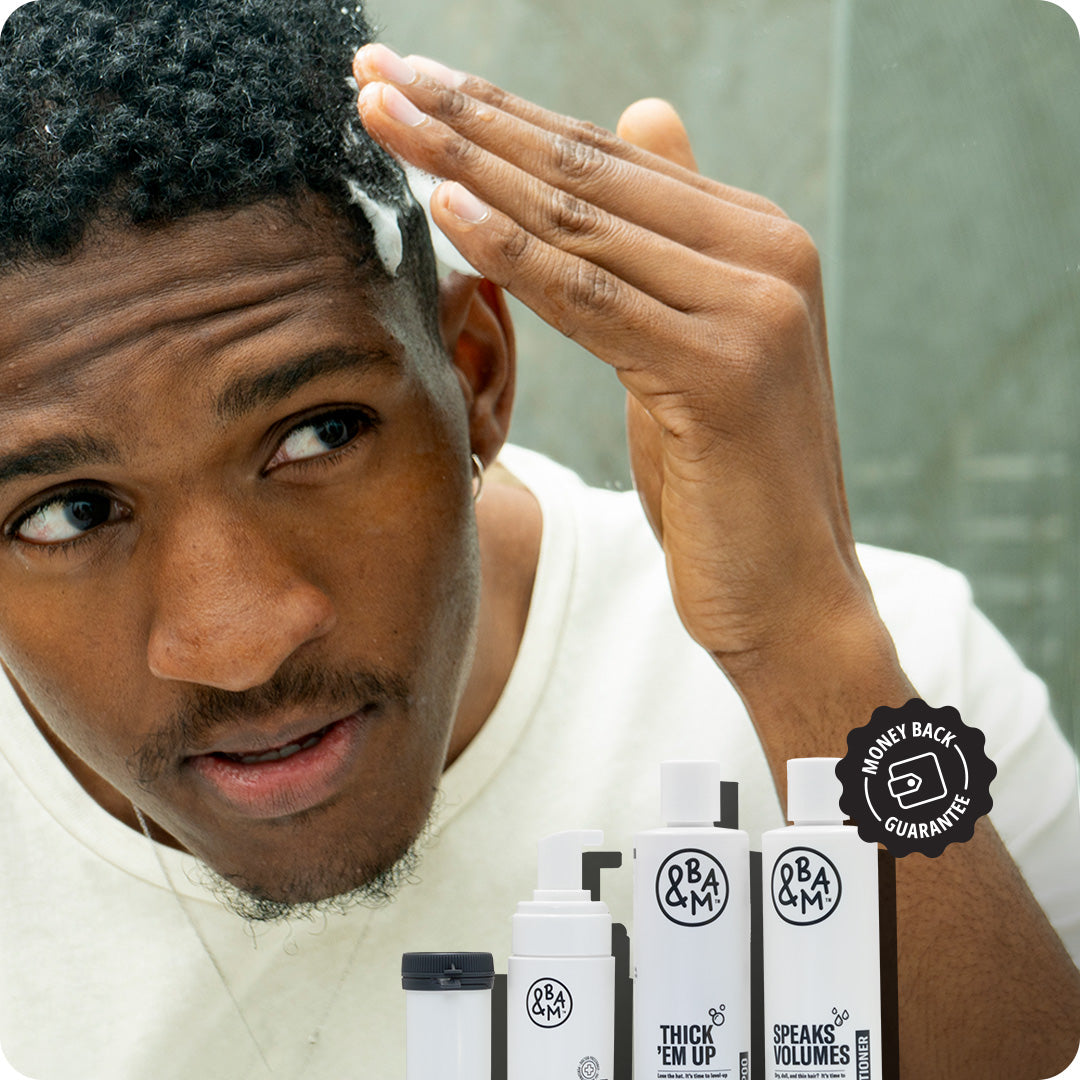 It's time to take action
Join thousands of guys getting their hair back with &BAM.
Proven results  
180+ 5-star reviews  
Customised for you  
Unlimited doctor follow-ups  
Start my assessment